Sky watchers last night were treated --or scared--by a glimpse of a giant fireball--and maybe three--that spread its light and sight across eight different states in the Continental United States.. It was so big a story Friday night that Ground Zero with Clyde Lewis quickly switched topics from a creepy video that may induce mind control to the lights in the sky..
This is a video of the fireball as seen from the Indiana skies..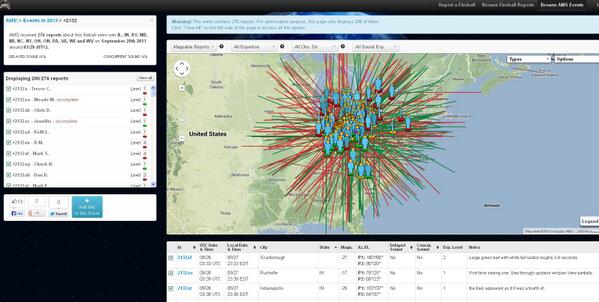 Astronomers.Org has a feature article saying that over 200 people reported the fireball
-- and it may have been many more than that.
Numerous other sources on Twitter say there were reports of 400 to 600 who say they saw the lights..
According to what we know
at this time: The fireball was in Ohio around 11:05 PM.. it was also seen in Pennsylvania, West Virginia, Virginia, Kentucky, North Carolina, Indiana, and Michigan..
Clyde Lewis, in his ongoing coverage during his show with eyewitness reports calling in, also posted a photo
from Ohio he received of three lights in the sky.
This major sky event isn't the first this week. There have been reports all across the United States of similar meteors. Though this one in the eight states last night was quite large, the Midwest had its own big fireball
one night earlier..
And timing is always everything..
These giant bright flashes in the sky are coming during the height of fear over the FEMA REGION 3 preparations.. Though FEMA itself discounted the rumors that the agency is preparing for any major events along the East Coast, incidents like what happened last night are not quelling any minds to sleep.. Instead lots of sleepless people may be looking at the clear star-filled skies again tonight--and quite possible may capture a glimpse of fireballs streaking through the midnight air..