The HORROR REPORT went back to black. We left the white background after a number of user complaints and reader gripes.. They didn't like the new design we had for about three weeks. While I did, I decided that the readers' happiness is worth more than mine.
So back to black we go.
Welcome to the new old new old HORROR REPORT on a Sunday morning.
Speaking of Sunday morning, here's your sidewalk.. complete with noteworthy headlines and things that matter.
A sleeping city sidewalk.. and Sunday morning coming down.
What is ruining Christmas this year? Creepy targeted advertisements, popping up on computers and giving away secrets ..
 We already know the secrets of advertisers: They spy and pry into every portion of our lives. But now they are stealing Christmas. I think Bill O'Reilly should write a book about them..

2014 has been the year of the paranormal in mainstream news.. Another story adds to the flavor: A ''possessed'' Argentine singer claims that she has been healed of her mental ills after swapping her medicine for an exorcism. Her name is Sabrina Sabrok, and she says she turned to a faith healer to exorcise her demons.
 Concerning her image, I assume the things on the picture are real?
A spy drone listens to calls, and hacks into WIFI networks.  And reads text messages to. And that's just what they are telling us this does..
 Always remember: Real technology is about 15 to 20 years more advanced than what the public knows of or gets to use..
Speaking of the future, it's coming fast.. Here's an AFP article to wet your appetite for tomorrow: The drone revolution hovers on the horizon.
 In the spirit of progress, I am fine with the future. As long as human rights don't continue to be trashed and governments don't continue to forcibly stomp on the faces of the free.. I simply fear that robots and drones will allow bad things to be much easier to perpetrate.. But getting grocery drone deliveries? That is cool.
Science fiction of the future is becoming reality of today. Here's a video that showcases a few technologies that could give humans the ability to live a lot longer. If not forever..
 And before you balk at the chances of living forever, think of this: IF you could be healthy, IF you could be secure, IF you can have a wage floor? What's not to like about life?
Of course something could come along and make us not want to life forever.. like a MAMA JUNE sex tape. Yes indeed..
VIVID Entertainment is offering up Ms. June, mother of HONEY BOO BOO of recent TEE VEE infamy, $1 million dollars if she would have sex with her child sex offender boyfriend on camera.
 Is God dead?

Satan in the making. Literally. Images revealed of the Oklahoma Satan being created. He's not quite done yet. And Baphomet's children are patiently waiting for their father figure to secure his site..
On the same topic as Satan.. an opening prayer in Lake Worth, Florida, caused consternation and protest by the commissioners.. 
Getting back off the Satan theme and moving   back to the Pagan theme, Christmas is coming soon.
So the question emerges, do you live to eat or eat to live? Gluttony is king on Christmas..But that's the problem in the US of super-sized A's.
Moral.. or filled with landmines on the ethical highway? The French are about to put the terminally ill into a deep sleep. Until death.
And some more choice headlines from the Ethically Deprived Highway.. The Senate torture report is still resounding across the nation. But the nation chooses to look away, averting their eyes to the previous decade of life in which we went lower than low..
in the torture report is this: Spokane psychologists were paid $80 mi for torture program work..
 Their job was to help the nation with the new mission of ''enhanced'' interrogation.. Doctors and medical workers, those swearing to do right in the world, were a part of something very problematic and often contrary to their oath. Doctors help anally hydrate subjects. CIA were helped by doctors. By nurses. By specialists of all sorts and sizes.. Among some highlighted issues: Doctors found prisoners with broken feet and yet STILL approved them to be in standing positions for 52 hours.. And psychologists actually also served often as interrogators..
So now the question: Will medical professionals face any consequences? 
There is most likely some sort of symbolism in this: Kary Perry was hit by a lollipop on stage.. video records her reacting..
 Though her reaction itself was priceless ..
People are STILL talking about the BABADOOK, the horror movie of the year according to many.. the WASHINGTON POST interviewed the director of the film, Jennifer Kent.
 A few noteworthy comments from Kent include, "A lot of people, when I spoke to them, as a woman, and said, 'Oh, I'm directing a horror film,' it was like I was directing a snuff film or porno or something terrible," she says. "The view on horror is that bad". And "Women do love watching scary films. It's been proven, and they've done all the tests. The demographics are half men, half women. And we know fear. It's not like we can't explore the subject."  The movies making the biggest impression on KENT were HALLOWEEN and THE THING.
 Kent also makes his superb point
 about horror itself: "I feel like a lot of the people who make horror actually don't understand its depth and its power," she says. "Unbeknownst to themselves, they're looking down on the genre. I also think a lot of horror is made cynically, and by that I mean that it's made to make money."  Absolutely agree! And on violence in horror--the gorefest and torture porn of recent years--Kent says that "the worst of them — the most violent and degrading and debasing versions of the form — probably are geared toward people who maybe identify with the killer, who maybe are getting off in some way."   Yet again, agree..  I would love the chance to sit down and talk to Jennifer Kent in some detail.. I think her points on horror and her thoughts on the genre are spot on.. There is a good chance that Jennifer Kent has become the new queen of scream,
as some have dubbed her.
 From the land down under, she took over the world of horror..
Did European scientists just find dark-matter signals buried in X-Rays!?
Sony fallout: Pascal likely to be fired, according to insiders.. 
 Racist emails came back to bite in Tinseltown. What other hidden gems await? Only the Guardians of Peace--and Sony--know that now..
NIGHT TERRORS OF 1927 announce new album set for January 2015 release..

Paranormal events that inspired horror movies are often much scarier than the movies themselves..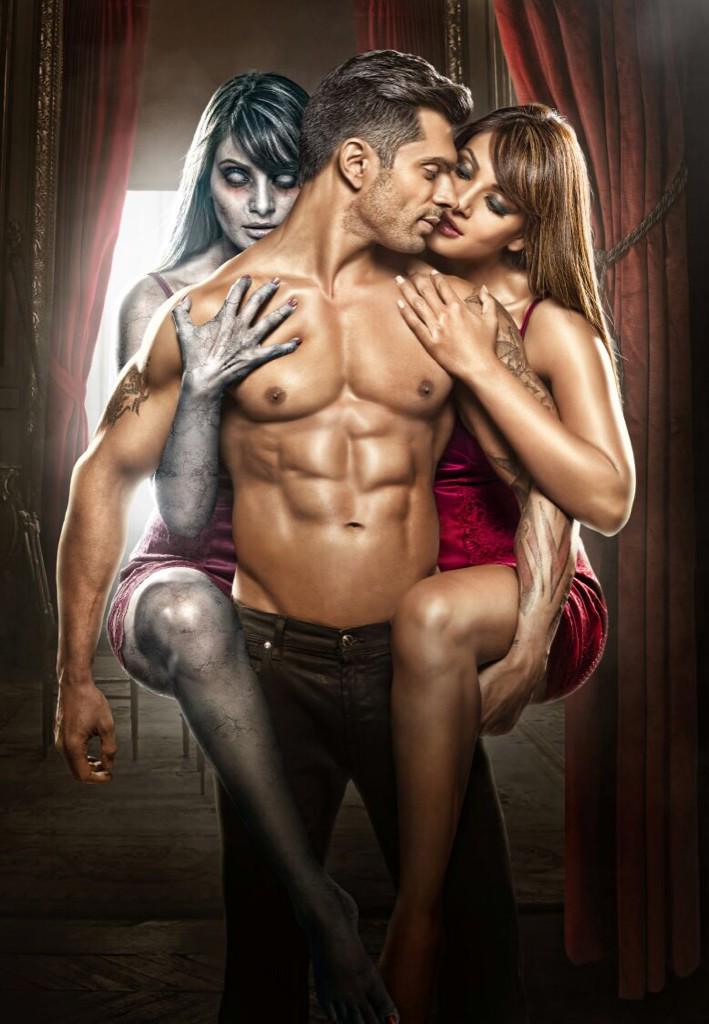 New ''sexy'' Bollywood horror film ALONE gets attention..
Keeping the creepy in Christmas.. A Tennessee attraction giving horror films what they want, even during the Christmas season..
The Death Yard Horror Attraction features a zombie Santa and undead elves..
 They say that instead of Christmas cheer, it's holiday fear.
And it's for charity's sake.
Yesterday was 12/13/14. A calender day that will not occur again until 2114. I hope you enjoyed it. As much as you'll enjoy the rest of your Sunday morning... coming down.