December 19, 2018 Bryan
The SINBAD effect
This news today: Entertainment Weekly has unveiled a first look at Will Smith in costume as the Genie in Disney's live-action "Aladdin" movie, and not everyone is thrilled with it. Why would they be!? We live in the Twitterverse of judgement world….
Smith stars in director Guy Ritchie's update of the animated classic, alongside Mena Massoud as Aladdin and Naomi Scott as Princess Jasmine. People have lampooned the imagery in EW since the release..
TWITTER has issued its typical backlash.. no surprise there at all….
Except one thing.. one little thing that caught my eye on a Facebook page I follow. The comment was made by so many Twitter commentators today: "Sinbad never looked better."
Now… that Sinbad comment sure is strange, considering that interesting "Mandela Effect" that I have written about previously here.
A few years ago, we talked extensively about the Sinbad movie that never existed.. I wrote then:
This is the latest 'glitch in the matrix' that even got me.
I recall this myself. I remember him in the outfit. I don't quite remember the name of the film as some others do, but I am very clear on my memory of him being in an awful un-funny movie when I was younger.
All of this is fodder for crowds of people who have a new-found appreciation of the Mandela Effect. Every day.
For those yet unaware, or those who do not quite know the label to call their strange memory lapses or sudden shocks to learn that reality is different from what they thought, it is called the Mandela Effect. There are people–and lots of them including Stafire Tor on an old Art Bell show that somewhat started all of this–that believed Nelson Mandela died in prison in the 1980s. They recall his funeral. They remember the news headlines and nightly news reporting. And they were shocked that he rose to the presidency of South Africa in the 90s. Because, to them, he was long dead.
Thanks to the new Will Smith movie, this glitch is back in full force, making a joke that Smith looks just like Sinbad looked in the Shazaam movie…
As a matter of fact, people are actually sharing a FAKE photo of Sinbad as "SHAZAAM" in their mockery of the Will Smith movie, not even realizing that SHAZAAM never even existed!!

Jeff D Lowe
✔@JeffDLowe
· Dec 19, 2018

This is approaching on cursed image territory. I'm floored by this photo.
should have been Sinbad he plays a great genie pic.twitter.com/yA0qO7vwAs
664
8:02 AM – Dec 19, 2018
Twitter Ads info and privacy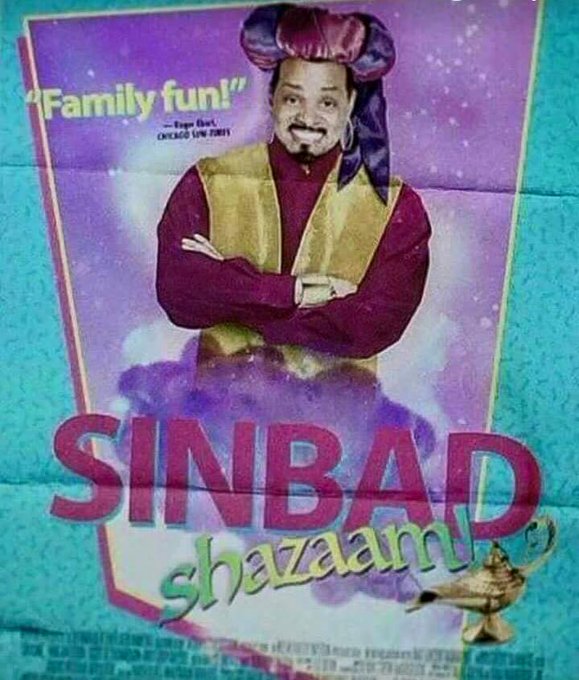 128 people are talking about this
It's the glitch that won't end!

Beyonce has an uncle named Larry Beyince. Bruh….@DragonflyJonez

They could've got Sinbad for all this and saved on a makeup budget
2,608
9:58 AM – Dec 19, 2018
1,140 people are talking about this
Twitter Ads info and privacy
And one person? ….they are glued in on the current version of reality, questioning another user as to whether it REALLY was Sinbad or Shaq..