Recent Donald Trump rallies have brought out huge crowds of supporters and often smaller but vocal–if not violent–protesters normally causing chaos both inside and outside of the boisterous rallies..
And the latest chaos forced Trump, who wants to build a wall to stop the flow of illegal immigration, to cross a wall himself..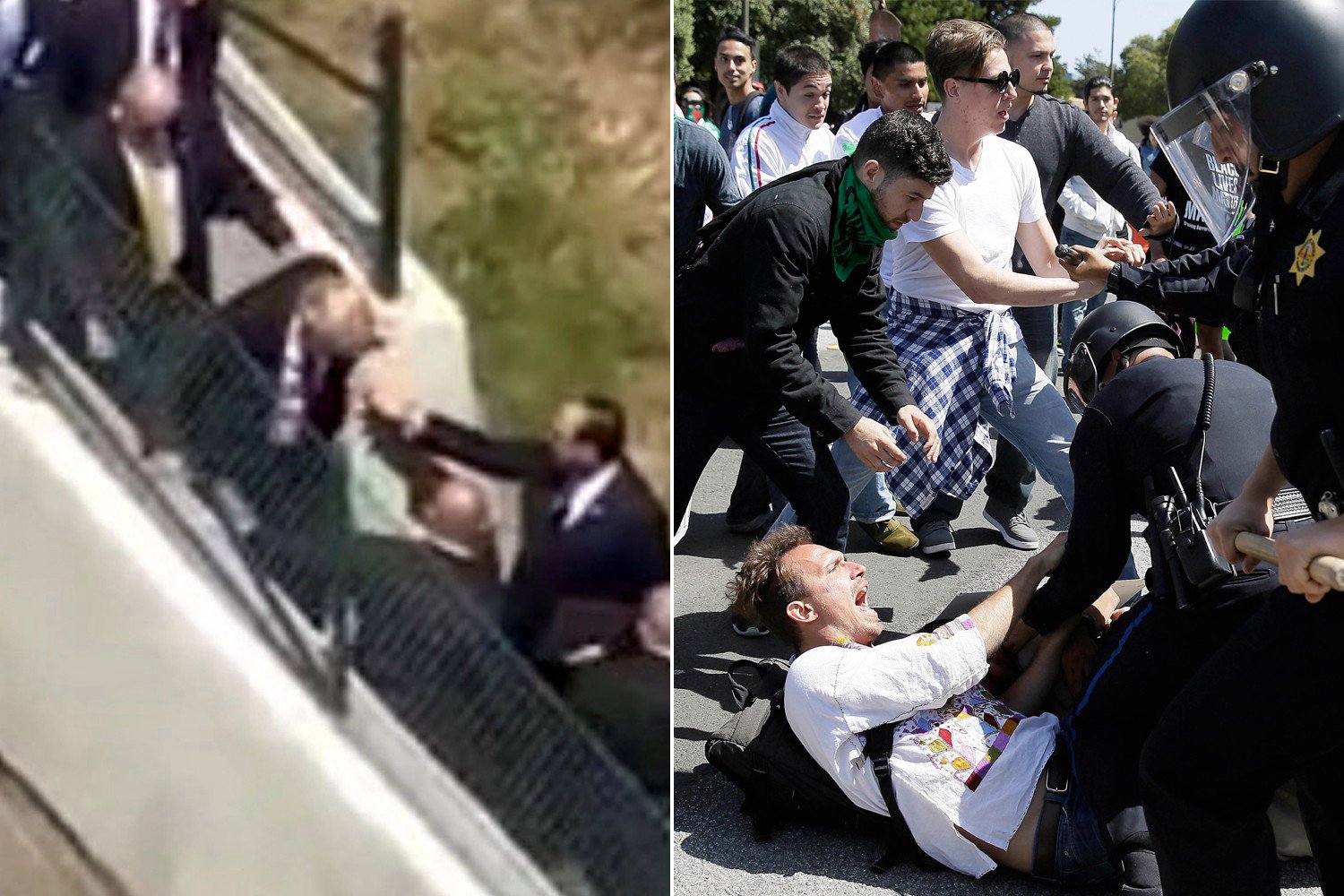 This time it wasn't a rally but a banquet.. the California Republican Party kicked off its convention in Burlingame Friday with Trump as a guest.. Trump arrived at the Hyatt Regency San Francisco Airport at 1333 Old Bayshore Highway in Burlingame shortly after noon. CHP officers pulled off the side of Highway 101. The candidate hopped a fence and entered through the back of the hotel..
http://up.anv.bz/latest/anvload.html?key=eyJtIjoiY2JzIiwidiI6IjMzOTMzMDQiLCJwbHVnaW5zIjp7ImNvbXNjb3JlIjp7ImNsaWVudElkIjoiMzAwMDAyMyIsImMzIjoiU2FuRnJhbmNpc2NvLmNic2xvY2FsLmNvbSJ9LCJkZnAiOnsiY2xpZW50U2lkZSI6eyJhZFRhZ1VybCI6Imh0dHA6Ly9wdWJhZHMuZy5kb3VibGVjbGljay5uZXQvZ2FtcGFkL2Fkcz9zej0yeDImaXU9LzQxMjgvQ0JTLlNGJmNpdV9zenMmaW1wbD1zJmdkZnBfcmVxPTEmZW52PXZwJm91dHB1dD14bWxfdmFzdDImdW52aWV3ZWRfcG9zaXRpb25fc3RhcnQ9MSZ1cmw9W3JlZmVycmVyX3VybF0mZGVzY3JpcHRpb25fdXJsPVtkZXNjcmlwdGlvbl91cmxdJmNvcnJlbGF0b3I9W3RpbWVzdGFtcF0iLCJrZXlWYWx1ZXMiOnsiY2F0ZWdvcmllcyI6IltbQ0FURUdPUklFU11dIiwicHJvZ3JhbSI6IltbUFJPR1JBTV9OQU1FXV0iLCJzaXRlU2VjdGlvbiI6InZpZGVvLWFydGljbGUifX19LCJoZWFydGJlYXRCZXRhIjp7ImFjY291bnQiOiJjYnNsb2NhbC1nbG9iYWwtdW5pZmllZCxjYnNsb2NhbC1zdGF0aW9uLXNhbmZyYW5jaXNjby11LGNic2xvY2FsLXN1YnByaW1hcnktc3d0di11bmlmaWVkLGNic2xvY2FsLW1hcmtldC1zYW5mcmFuY2lzY28tdW5pZmllZCIsInB1Ymxpc2hlcklkIjoiODIzQkEwMzM1NTY3NDk3RjdGMDAwMTAxQEFkb2JlT3JnIiwiam9iSWQiOiJzY192YSIsIm1hcmtldGluZ0Nsb3VkSWQiOiI4MjNCQTAzMzU1Njc0OTdGN0YwMDAxMDFAQWRvYmVPcmciLCJ0cmFja2luZ1NlcnZlciI6ImNic2RpZ2l0YWxtZWRpYS5oYi5vbXRyZGMubmV0IiwiY3VzdG9tVHJhY2tpbmdTZXJ2ZXIiOiJjYnNkaWdpdGFsbWVkaWEuZDEuc2Mub210cmRjLm5ldCIsImNoYXB0ZXJUcmFja2luZyI6ZmFsc2UsInZlcnNpb24iOiIxLjUifSwicmVhbFRpbWVBbmFseXRpY3MiOnRydWV9LCJhbnZhY2siOiJhbnZhdG9fY2JzbG9jYWxfYXBwX3dlYl9wcm9kXzU0N2YzZTQ5MjQxZWYwZTVkMzBjNzliMmVmYmNhNWQ5MmM2OThmNjcifQ
"That was not the easiest entrance I've ever made," the frontrunner said. "It felt like I was crossing the border actually. I was crossing the border, but I got here."