1/6/21 will be a new day of infamy..
Some will defend it, some will say it was ANTIFA..
Others will call it insurrection and treachery.
Senator Tammy Duckworth, a Democrat from Illinois, told CBS News that a Senate staffer managed to secure the wooden chests containing the Electoral College certificates before senators were evacuated from the Senate chamber.
Before the violence began a the Capitol, the President addressed a crowd of faithful at a "Stop the Steal" rally in DC that the media was at fault, that the election was stolen, and it was time to fight…
Minutes later, as Trump went into his secure limo despite saying he would tell his supporters he would "walk down" with them, MAGA supporters began to break through police lines as storm the United States Capitol building.
Images that graced us today included Trump supporters taking over the halls of Congress, sitting in the Speaker's chair and posting for a photo, and even sitting in the offices of Congresspersons and rummaging through their paperwork.
Among the harrowing moments: People scaling walls, a shooting, the floor of the Congress being attacked and guarded by a few armed security officials…
Twitter deleted a pre-taped video of Trump telling people to "go home" and subsequently suspended Trump's account for 12 hours.. many called for a deletion and more..
While the Capitol was cleared late in the day of protesters, images of gallows erected near the building have become showcased online..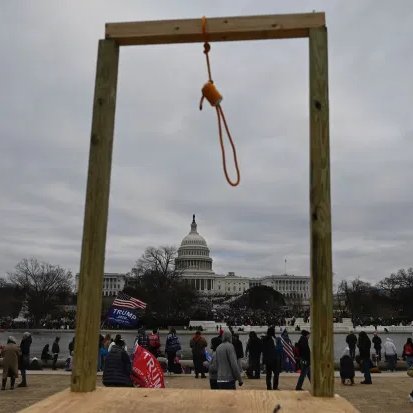 For some, it feels like a new 9/11, a moment when the nation is shaken to its core..
Never in recent memory have the events of a single 24-hour period so shaken two presidencies, the very Capitol of the United States and the nation itself as they did on Wednesday.

The effects will ripple out for years to come, and the full consequences will be left for historians to sort out. It seems likely, though, that the chances that other Republicans will see Mr. Trump as the leader of their party after he leaves office have been diminished significantly. As Mr. Trump himself tried to remind his supporters after violence broke out, Republicans like to be seen as the party of law and order, and that is hardly the image he is now projecting.



WE will all have to come to grips with this moment in time.. and with time comes perspective. While so many are quick to have an immediate reaction to moments in real time, at unique historical point like this, it is better to refrain from comment and final judgement.. as the historical events have yet to change and end.
Joe Biden has been officially named the President Elect as of 4am today. But will he be the 46th president? Or 47th?
Moments in time captured by screenshot and photographic evidence of anarchy at the nation's capitol. The world watched, by the way. THAT should be as scary as what we saw yesterday.